Home
My Photos:My Garden, Royal Ontario Museum, Lao Watt Temple, Sonnenberg Estate
Genesis & Evolution of A Blog/Blogger
AMAZED by Gordon Coombes
My POETRY 'As If...'
Two Poems For Charles ( Hank ) Bukowski - Here's To Charles Bukowski - & Poems For Sale
Earthbound angel #5 Sensuous Angel or the Rose Of Sharon
For Walt Whitman
PHONY PROPHETS & Visions Of THE ANCIENT SAGE
Homage to H.P. Lovecraft
MY POETRY:NIGHT OF A THOUSAND HOURS
Inside The Jumble Jar : Sharing Our Dreams & Soundings
Being a Child of Raging Fire in the Shadow of Towering Smokestacks
POEM FOR ROBERT BURNS : BLOOD FEUD
My Poetry: Two Variations on Hope And Tragedy
LAO TSU, CRIMSON LOTUS BLOSSOMS ,The Blank Slate and AS THE FOG ROLLS IN
Listen To This...No. 1 & No. 2
INNER CHILD
REQUIEM : AN EPIC FOR OUR TIME:
Dreaming Love
KADDISH VARIATIONS
Visions of the Subterranean in the Run-down Rooming-house of the Soul
Tales From Café Apollinaire: Variations on Distilled Dreams
Poetry: Dharma Bumming/ More Of The Dharma/ Buddha And The Blue Horses/Waiting in The Snow
Aphorisms & Haiku II : Stonefish & Tigerlilies
WISDOM IN A CLUBHOUSE SANDWICH
Night Visions & Barbed-Wire Encircled World
No End to Beginnings & Endings
Ah F... Art...
Inspiring Quotes Victor Hugo, Jean Paul Sartre. Edvard Munch
FILM : Zhang Yimou's " HERO " & " RAN" BY AKIRA KUROSAWA
& SERGIO LEONE & CLINT EASWOOD
Film "GLORY" (1989) & ROBERT LOWELL " FOR THE UNION DEAD "& "SKUNK HOUR"
Favorite Books and Authors
Links To Websites Literary & Art
BEAT POETRY & PROSE- JACK KEROUAC,BURROUGHS, BUKOWSKI
ART:POST-IMPRESSIONISM- Van Gogh, Gauguin, Cezanne, Seurat, Lautrec, Gustav Klimt and Henri Rousseau
ART: EXPRESSIONISM Edvard Munch, George Grosz,Marc Chagall et al
LITERATURE: FRANZ KAFKA & SURREALISM
William Blake Poet & Mystic
BAUDELAIRE & RUMI
Chief Seattle :The Web Of Being And The Ghost Dance
DADA SURREALIST MADNESS OF Andre Breton, Rene Magritte ,Yves Tanguay, MAX ERNST & MARCEL DUCHAMP
ART: Frida Kahlo & Diego Rivera
FILM: FRIDA KAHLO FILM REVIEW
Art Of Goya & Michael Sowa
Guillaume Apollinaire, SURREALISM & DADA & HANS (JEAN) ARP & HUGO BALL
EXCERPTS FROM: THE BANQUET YEARS: Guillaume Apollinaire etc. By Roger Shattuck
Pablo Neruda - " I'LL Explain Some Things " & " Ode To A Book "
Federico Garcia Lorca ( 1898 -1936 ): " Lament for Ignacio Sanchez Mejias "
MUSIC: VICTO JARA - CHILEAN / FOLK /POLITICAL
POETRY & POLITICS from Robert Burns to Robert Lowell to Ginsberg to Ty Gray EL
Poetry: W. B.Yeats, Pablo Neruda , Dylan Thomas ,
ROBERT BURNS " A MAN's A MAN FOR A' THAT " " SUCH A PARCEL OF ROGUES " & "Scots, wha hae.
ART: JOSEPH CUSINAMO VIVID SURREALISM ZAZIE
ART: SURREALISM, RENE MAGRITTE, CHAGALL,MAX ERNST & DALI
SURREALISM : COMTE LAUTREMONT: SONGS OF MALADOR
SURREALISM: ANDRE BRETON ON DADA & SURREALISM
ART & FILM ANIMATION : RYAN LARKIN
ART: DADA & WAR
MUSIC & POETRY :" ODE TO JOY " Friedrich Schiller's Poem
Films Surreal " V " For Vendetta & David Lynch, John Waters,Terry Gilliam ,Luis Bunuel,COSTAS GAVRAS
FILMs: Guilty pleasures Horror with a twist:Killer Klowns DAGON & Reanimator, Society & Brian Yuzna
Film Reviews:John Carpenter THEY LIVE Cronenberg's Videodrome- PARANOIA, CONSPIRACY,Satire
Jacques Brel ,KURT WEILL & BERTOLT BRECHT - Alabama Song, Mack The Knife Three Penny Opera etc.
MORE MUSIC: Nick Cave, Leonard Cohen,Camila Moreno,Arcade Fire, Tom Waits , Jacques Brel
Opium Tea , Dead Can Dance, They Might Be Giants
JACQUES BREL -La Mer- lyrics Sons of , the Middle Class, If We Only Have Love , Next, Amsterdam
MUSIC : JAZZ
MUSIC: CLASSICAL
Film: IMMORTEL (AD VITAM) SURREALISTIC FILM
Film: WIM WENDERS' "WINGS OF DESIRE"
Film Review: Pulse/ KAIRO Kiyoshi Kurosawa
"HOUSE OF FLYING DAGGERS" FILM REVIEW
Film: CEMETERY MAN AKA DELLAMORTE DELLAMORE
Film : INGMAR BERGMAN ON DEATH , DREAMS, & DELUSIONS
Films : Johnny Depp
Film: DRACULA THE SHADOW OF THE VAMPIRE

IMMORTEL (AD VITAM) SURREALISTIC Sci-Fi Fantasy FRENCH FILM



POSTER FOR SURREALIST FILM IMMORTEL (2004) DIRECTED BY ENKI BILAL
Posted by Picasa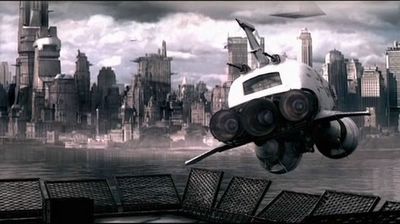 SCENE OF NEW YORK CITY AS DEPICTED IN INNOVATIVE & SURREAL FILM IMMORTEL (2004)
Posted by Picasa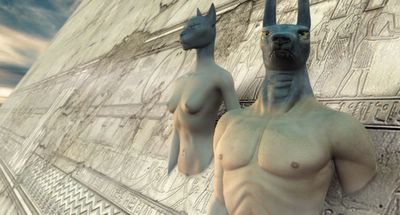 EGYPTIAN GODS ANUBIS & BASSET IN IMMORTEL (2004)
Posted by Picasa


EGYPTIAN GOD HORUS EMERGING FROM PYRAMID HANGING IN THE SKY OVER NEW YORK IN THE SURREAL FILM IMMORTEL(2004)
"HEY LOOK THERE'S A NAKED GUY STICKING OUT OF THE PYRAMID !!! "
EXCLAIMS ONE OF THE HELICOPTER PILOTS.
Posted by Picasa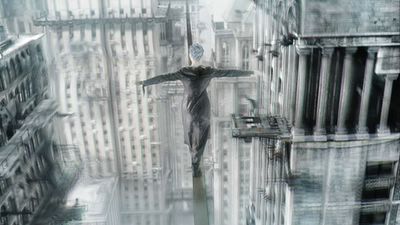 JILL AN ENIGMATIC BEING WALKING THE RAILS OVER NEW YORK IN THE FILM IMMORTEL (2004) SHE HAS ELECTRIC BLUE HAIR & CRIES BLUE TEARS -
Posted by Picasa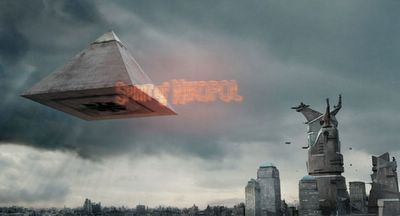 ELECTRONIC GRAFITTI " SPIRIT OF NIKOPOL" REFERS TO THE LEADER OF THE REBELS in FILM IMMORTEL (2004)
Posted by Picasa


NIKOPOL POSSESSED BY HORUS IN A BIZARRE RELATIONSHIP WITH JILL IN IMMORTEL (2004)
Posted by Picasa

IMMORTEL AD VITAM



Immortal Clips


FILM REVIEW :

so many films so little time

Immortel (ad vitam) (2004)

Director: Enki Bilal
Rated: Unrated

Charlotte Rampling - Dr. Elma Turner
Thomas Kretschmann - Alcide Nikopol
Linda Hardy - Jill
Frederic Pierrot - John
Thomas M. Pollard - Horus
Yann Collette - Froebe
Joe Sheridan - Kyle Allgood


The film IMMORTEL by Enki Bilal is one of the more interesting movies I have seen recently & great for summer viewing. The film is mostly animation & cgi . It is also a complicated layered story. It does not always make sense. But I found it more enjoyable after repeated viewings.The film is a mixture of animation styles with a couple of actors in the flesh as it were. It is a wonderfully bizarre surreal imaginative film .

The film is set in the year 2095 in New York City. AND here's the story as it were.
There's this Egyptian God, Horus who climbs out of a pyramid floating above New York City. He has one week to spend on Earth before he is executed for some mysterious crime . Horus possesses the body of Nikopol who is the leader of the resistence movement & has just accidentally been freed from his imprisonment of thirty years in stasis as it were & Horus uses his body to impregnate the strange blue haired girl Jill who is a prisoner given her freedom in return for being a guinea pig or lab-rat for a doctor because of her unusual anatomy & so it goes but it is all a bit of a wild & wondrous ride just don't over think it or is it under think it - hard to say . Anyway there was enough material at hand for two or three movies but that's what this form of story telling is all about so there you go. But it might have benefitted if one of the subplots had been dropped.
There are a few startling scenes of heads & cars exploding obligatory car chase ala Fifth Element & some twisted scenes of rape & possession.
Due to advances in science medicine & technology people are more machine& artificial flesh than organic having replaced worn out parts limbs & organs etc.

The futuristic city is reminiscent of The Fifth Element & Blade Runner & Brazil & even the silent film classic METROPOLIS. It is a rather strange post-nuclear war dystopia controlled by certain powerful corporations connected with Medical & Genetic / Technology Industry .
There are flying cars like those in Fifth Element except there are also tracks hanging in the sky which the cars hook onto.
& there's this weird little creature on the washroom wall who offers soap toothpaste & pulls out a pistol firing on some alien mutant red hammer- headed land shark which has been sent to kill JIll & Nikopol.
While Jill has clandestine meetings with a scarf-faced man or spirit guide or god or what have you named john who is connected somehow to the Vortex which has appeared in Central Park.

It was a more adult type film than KEANA which is also an intriguing & complicated but more light -hearted fantasy film -more about this film at another time.

Other films which I've seen recently that I would recommend include HOUSE OF FLYING DAGGERS, The LAST SAMURAI, KING ARTHUR, KILL BILL VOLUME 2, & I, ROBOT & the recently released weird & wondrous Tim Burton retelling of CHARLIE & THE CHOCOLATE FACTORY,& Spielberg's updated version of WAR OF THE WORLDS, which is more satisfying than the George Pal 1950's original.
JU-ON which is the Japanese original film version of The Grudge . The American version has a plot which has fewer characters & episodes.
And for the truly strange & not to everyone's taste SEED OF CHUCKY.


from www.scifimoviepage.com/art_immortel.html
also see DVD TIMES-IMMORTEL(AD VITAM)

~ Jason Buchanan, All Movie Guide.com

NEW YORK TIMES MOVIES
movies2.nytimes.com


www.dvdtimes.co.uk

That's all for now.
GORD.





Enter supporting content here