Home
My Photos:My Garden, Royal Ontario Museum, Lao Watt Temple, Sonnenberg Estate
Genesis & Evolution of A Blog/Blogger
AMAZED by Gordon Coombes
My POETRY 'As If...'
Two Poems For Charles ( Hank ) Bukowski - Here's To Charles Bukowski - & Poems For Sale
Earthbound angel #5 Sensuous Angel or the Rose Of Sharon
For Walt Whitman
PHONY PROPHETS & Visions Of THE ANCIENT SAGE
Homage to H.P. Lovecraft
MY POETRY:NIGHT OF A THOUSAND HOURS
Inside The Jumble Jar : Sharing Our Dreams & Soundings
Being a Child of Raging Fire in the Shadow of Towering Smokestacks
POEM FOR ROBERT BURNS : BLOOD FEUD
My Poetry: Two Variations on Hope And Tragedy
LAO TSU, CRIMSON LOTUS BLOSSOMS ,The Blank Slate and AS THE FOG ROLLS IN
Listen To This...No. 1 & No. 2
INNER CHILD
REQUIEM : AN EPIC FOR OUR TIME:
Dreaming Love
KADDISH VARIATIONS
Visions of the Subterranean in the Run-down Rooming-house of the Soul
Tales From Café Apollinaire: Variations on Distilled Dreams
Poetry: Dharma Bumming/ More Of The Dharma/ Buddha And The Blue Horses/Waiting in The Snow
Aphorisms & Haiku II : Stonefish & Tigerlilies
WISDOM IN A CLUBHOUSE SANDWICH
Night Visions & Barbed-Wire Encircled World
No End to Beginnings & Endings
Ah F... Art...
Inspiring Quotes Victor Hugo, Jean Paul Sartre. Edvard Munch
FILM : Zhang Yimou's " HERO " & " RAN" BY AKIRA KUROSAWA
& SERGIO LEONE & CLINT EASWOOD
Film "GLORY" (1989) & ROBERT LOWELL " FOR THE UNION DEAD "& "SKUNK HOUR"
Favorite Books and Authors
Links To Websites Literary & Art
BEAT POETRY & PROSE- JACK KEROUAC,BURROUGHS, BUKOWSKI
ART:POST-IMPRESSIONISM- Van Gogh, Gauguin, Cezanne, Seurat, Lautrec, Gustav Klimt and Henri Rousseau
ART: EXPRESSIONISM Edvard Munch, George Grosz,Marc Chagall et al
LITERATURE: FRANZ KAFKA & SURREALISM
William Blake Poet & Mystic
BAUDELAIRE & RUMI
Chief Seattle :The Web Of Being And The Ghost Dance
DADA SURREALIST MADNESS OF Andre Breton, Rene Magritte ,Yves Tanguay, MAX ERNST & MARCEL DUCHAMP
ART: Frida Kahlo & Diego Rivera
FILM: FRIDA KAHLO FILM REVIEW
Art Of Goya & Michael Sowa
Guillaume Apollinaire, SURREALISM & DADA & HANS (JEAN) ARP & HUGO BALL
EXCERPTS FROM: THE BANQUET YEARS: Guillaume Apollinaire etc. By Roger Shattuck
Pablo Neruda - " I'LL Explain Some Things " & " Ode To A Book "
Federico Garcia Lorca ( 1898 -1936 ): " Lament for Ignacio Sanchez Mejias "
MUSIC: VICTO JARA - CHILEAN / FOLK /POLITICAL
POETRY & POLITICS from Robert Burns to Robert Lowell to Ginsberg to Ty Gray EL
Poetry: W. B.Yeats, Pablo Neruda , Dylan Thomas ,
ROBERT BURNS " A MAN's A MAN FOR A' THAT " " SUCH A PARCEL OF ROGUES " & "Scots, wha hae.
ART: JOSEPH CUSINAMO VIVID SURREALISM ZAZIE
ART: SURREALISM, RENE MAGRITTE, CHAGALL,MAX ERNST & DALI
SURREALISM : COMTE LAUTREMONT: SONGS OF MALADOR
SURREALISM: ANDRE BRETON ON DADA & SURREALISM
ART & FILM ANIMATION : RYAN LARKIN
ART: DADA & WAR
MUSIC & POETRY :" ODE TO JOY " Friedrich Schiller's Poem
Films Surreal " V " For Vendetta & David Lynch, John Waters,Terry Gilliam ,Luis Bunuel,COSTAS GAVRAS
FILMs: Guilty pleasures Horror with a twist:Killer Klowns DAGON & Reanimator, Society & Brian Yuzna
Film Reviews:John Carpenter THEY LIVE Cronenberg's Videodrome- PARANOIA, CONSPIRACY,Satire
Jacques Brel ,KURT WEILL & BERTOLT BRECHT - Alabama Song, Mack The Knife Three Penny Opera etc.
MORE MUSIC: Nick Cave, Leonard Cohen,Camila Moreno,Arcade Fire, Tom Waits , Jacques Brel
Opium Tea , Dead Can Dance, They Might Be Giants
JACQUES BREL -La Mer- lyrics Sons of , the Middle Class, If We Only Have Love , Next, Amsterdam
MUSIC : JAZZ
MUSIC: CLASSICAL
Film: IMMORTEL (AD VITAM) SURREALISTIC FILM
Film: WIM WENDERS' "WINGS OF DESIRE"
Film Review: Pulse/ KAIRO Kiyoshi Kurosawa
"HOUSE OF FLYING DAGGERS" FILM REVIEW
Film: CEMETERY MAN AKA DELLAMORTE DELLAMORE
Film : INGMAR BERGMAN ON DEATH , DREAMS, & DELUSIONS
Films : Johnny Depp
Film: DRACULA THE SHADOW OF THE VAMPIRE

WIM WENDERS' "WINGS OF DESIRE" Surreal and magical


POSTER WIM WENDERS' "WINGS OF DESIRE"
Posted by Hello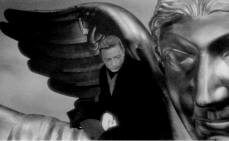 IMAGE OF ANGEL ATOP STATUE OVERLOOKING BERLIN FROM WIM WENDERS' "WINGS OF DESIRE"
Posted by Hello

In my recent posts I was talking about the films of Spanish surrealist director Luis Bunuel & the bizarre films of David Lynch & the puzzling films of Ingmar Bergman .
It is difficult to impossible to rent or buy many of these films. Some of these films which might be available are for sale at outrageous prices. For instance at HMV the Exterminating Angel by Bunuel is only available in VHS for about $150 & David Lynch's bizarre masterpiece ERASER HEAD goes for about the same price. . So you have to have a good source of money & be part of the Bourgeoisie to buy a film which attacks the Bourgeoisie & materialism it is a little bit ironic & absurd I think.
A DVD copy of Bergman's The Seventh Seal goes for 60$ or more.
Or Kurosawa 's Seven Samurai goes for about $ 70.
I can purchase six previously viewed films at Movie Gallery for the same price. So what's an anarchist to do. What's a movie lover to do.

Last week I ordered three films over the Net which includes two of Stuart Gordon's bizarre & surrealistic film DAGON & Brian Yuzna's twisted gorefest satirical SOCIETY & WINGS OF DESIRE by the German film director Wim Wenders.
See DAGON HOMEPAGE:/movies.fantasticfactory.com/dagon/

Wings of Desire(1987 ,128) min is an astonishing piece of film . It is the story of Angels & how they spend their time recording the thoughts & activities of mortal humans. The first part of the film is in black & white & with the voice over reciting at times the poetry of Rainer Maria Rilke combined with fabulous cinematography the film becomes one of the most beautiful & lyrical pieces of film making.
The film takes its time & lingers or hovers about its main themes of the human condition birth & death & growing old of the role of memory in our lives as well as love & isolation & alienation in the modern world & even good old German angst.

As one reviewer (Anthony Leong) writes:
(users.aol.com/aleong1631/wingsofdesire.)

' "Wings of Desire" is director Wim Wenders' hauntingly beautiful celebration of the simple pleasures of life, and the inherent beauty in everyday occurrences. As seen through the eyes of the angels that stand watch over its streets, the divided city of Berlin is a pastiche of emotions and experience, a bittersweet testament to the blessed nature of the human condition. Inspired by the poems of Rainer Maria Rilke, this deliberately meditative film is counted as a favorite among many critics. In addition to spawning a sequel in 1993 ("Faraway, So Close!"), "Wings of Desire" was also remade in 1998 as "City of Angels".'

One of the angels falls in love with a woman & decides to become mortal to be with her. The angel Damiel ...

"One day, while observing a circus rehearsal, he is captivated by Marion, a French trapeze artist practicing her routine in an angel costume. Receiving the news that the circus is closing, she feels profoundly alone, but is consoled by Damiel's empathic presence. He falls in love with her: her grace, passion, melancholy. They are kindred spirits longing to find an inextricable part of their soul that is missing. If Damiel can transfigure, perhaps he can fill the void."
(See: www.filmref.com/directors/dirpages/wenders)




"WINGS OF DESIRE" ANGEL DAMIEL WALKING BY THE BERLIN WALL
Posted by Hello

When Damiel becomes mortal the film switches to colour . The angel relishes the bodily sensations which he begins to experience for the first time such as being hungry then satisfying his hunger & feeling cold then becoming warm etc. There are a couple of interesting things about the film which are of note. For instance Peter Falk plays himself & is in Berlin working on a film & is often shown sketching people & as we discover he is also an angel who became mortal in the 1940's this in itself adds a strange dimension to the film & the other point of interest for me is that we get to see Nick Cave perform in a small German café bar.


And as Mark Deming of the New York Times puts it:
"Wings Of Desire hinges on the intangible and elusive, and it builds something beautiful from those qualities." ~ Mark Deming, All Movie Guide on the net.


The American remake of the the film as CITY OF ANGELS is far too hollywoodish if you like & is plot driven & is just another love story for the most part & is wholly unsatisfying after viewing the original. They also changed the details about the female character played by Meg Ryan who is a heart surgeon which is a bit beyond the trapeze performer in the original. In City of Angels she is a successful woman & not as in the original someone who is on the fringes of society an outsider or Bohemian who enjoys the dark & strange heartfelt music of Nick Cave. This is a person at a crossroads in her life & we can empathize with & can see how the angel could fall in love with her.


For any film buff this is a must see as required by the natural laws of Surrealism & all that manifest itself as Holy or whatever.
Also see : WIM WENDERS OFFICIAL HOMEPAGE
/www.wim-wenders.com/movies/

And for a review of the DVD Package(2003) see: DVDFILE.COM: Wings of Desire review
this site has a number of film reviews & details about the quality of the DVDS & any extras etc.






Enter supporting content here