PHOTO FROM DAVID CRONENBERG'S " VIDEODROME " (1983) EXTREME REALITY TV
Posted by
Hello
PHOTO OF BRIAN O'BLIVION ON TV IN DAVID CRONENBERG'S "VIDEODROME"
Posted by
Hello
"The television screen is the retina of the mind's eye. Therefore, the television screen is part of the physical structure of the brain. Therefore, whatever appears in the television screen emerges as raw experience for those who watch it. Therefore, television is reality, and reality is less than television."
Brian O'Blivion's theory as presented in VIDEODROME
And also:
PHOTO OF BRIAN O'BLIVION'S 'CATHODE RAY MISSION' IN VIDEODROME
Posted by
Hello
'Brian O'Blivion's Cathode Ray Mission grants the misfits of society a chance to recover back into "the real world" by pumping TV-transmissions into their eyes. By the tv-soap operas and talkshows they gain some of the social competence they lack in the cold, unsocial industrial world of ours. "Watching TV will help patch them back into the world's mixing board."... Where else do we learn how to act in a social acceptable way?'
"LONG LIVE THE NEW FLESH" JAMES WOODS FLESH TRANSFORMED IN CRONENBERG'S VIDEODROME(1983)
Posted by
Hello
In David Cronenberg's film "VIDEODROME" there is an embedded subliminal message which affects the viewer's brain creating a tumor which causes hallucinations. Eventually the viewer is no longer able to distinguish what is real from what is an hallucination. Those who have created Videodrome want to change North American society because they believe our society has become soft,weak & decadent & the rest of the world has become tough & will soon destroy our society.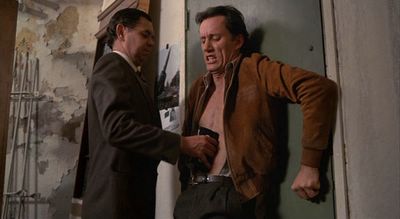 "VIDEODROME" MAX (JAMES WOODS) GETS A VIDEOTAPE INSERTED INTO HIS BODY
Posted by
Hello
Watching the film is like going through the looking glass with Alice as we begin to confuse what is really happening with what is an hallucination or a fantasy of the James Woods' character MAX. And the more times we watch it the more interesting it becomes ; we become like MAX unable to look away even when some of it becomes a little too viseral which is typical of a number of Cronenberg films such as SHIVERS & RABID & EXISTENZ & NAKED LUNCH & THE BROOD. These are all classics of horror & surreal dream-like & nightmarish imagery.
" VIDEODROME" JAMES WOODS & DEBORAH HARRY WATCHING VIDEODROME TAPE Posted by
Hello
Max runs a small independent cable tv station which specializes in the unusual for its targeted audience when he stumbles across the Videodrome signal which produces a program of sadism of beating,torture ,rape & death but it is all for real. But MAX is fascinated by the program & sees it's financial implications for his cable tv station.
AND ON VIDEODROME SEE:
www.boxoffice.com/
Also see:
www.davidcronenberg.
or read the book CRONENBERG ON CRONENBERG
Anyway that's all for now,
GORD